Stealey Hall 116
Registrar
The Registrar's office at Southeastern Baptist Theological Seminary is glad to serve students by registering them for classes, helping with graduation, providing transcript evaluations, and more.
Email us
Trevor King
Registrar
Trevor oversees the Registrar's office for both the graduate and undergraduate programs. Originally from Oklahoma, he graduated from Southeastern with a Master's degree in Christian Studies (M.A.) and a Doctorate in Education (Ed.D.). He and his wife have two daughters, and they are involved in ministry at Imago Dei Church.
Mary Asta Halvorsen
Office Coordinator
A native of Raleigh, North Carolina, Mary Asta serves as the Registrar Office Coordinator, helping students with various situations regarding transcripts, registration, and getting in contact with the best point person. She is currently pursuing a Bachelor of Arts degree in English with the desire to write fictional and fantasy books that point others to Christ. In her free time, Mary Asta enjoys doing anything creative as well as spending time with her family, practicing Tae Kwon Do, and cooking up the most random of dishes.
Jenna Burchett
Assistant Registrar
Jenna serves as the Assistant Registrar for the College at Southeastern. She moved from New Hampshire to North Carolina in 2016 to pursue her undergraduate in Global Studies at the College at Southeastern. She and her husband, Chad, live in Wake Forest and are part of the Oak Grove Baptist Church family. Jenna is currently pursuing a Master of Arts in Intercultural Studies and hopes to one day go overseas and minister in an underserved region. She and her husband both enjoy reading, music, and game nights and are beginner backpackers.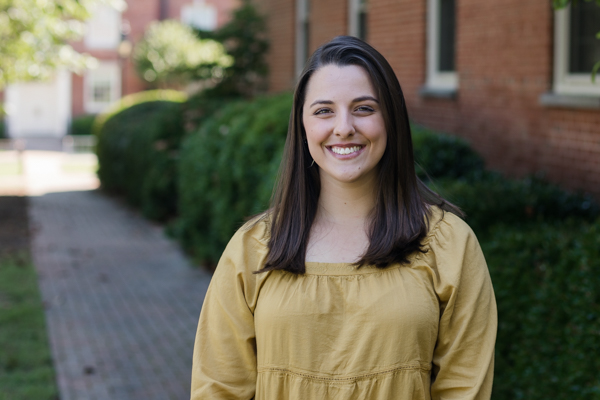 Dalton Kaiser
Assistant Registrar
Dalton serves the Registrar's Office by assisting our graduate students. Dalton is originally from Houston, TX, but spent the last 10 years living in Irving, TX in the heart of the DFW Metroplex. He is a graduate of Dallas Baptist University, is currently working on his Master of Divinity, and desires to do church revitalization and pastoral ministry. Dalton lives in Wake Forest with his wife McKinley and his daughter Greta, and they are covenant members at Christ Covenant Church Raleigh.
Katie Hathaway
Assistant Registrar
Katie serves as the Assistant Registrar for Advanced Studies and Graduation. She moved from Franklin, Tennessee in 2021 to pursue a Master of Arts in Christian Education. She has a background in Sport Management and hopes to serve students in higher education long term. Katie enjoys trying new coffee shops around town, hosting friends for game nights, and serving at The Summit Church.
Will Johnston
Assistant Registrar
Will serves the Registrar's Office by overseeing academic records and institutional research. Originally from Louisiana, he moved to Wake Forest/SEBTS in 2015. He has completed his MA in Biblical & Theological Studies here at SEBTS and is currently pursuing his PhD in Theological Studies, while his wife, Kathrynn, is pursuing her JD at Campbell Law School. He desires to change the world by playing his part in the second greatest commission of 2 Cor 5:18-19. Will and Kathrynn are members of Imago Dei Church in Raleigh and love cooking, traveling, and spending time with their church small group.
Frequently Asked Questions